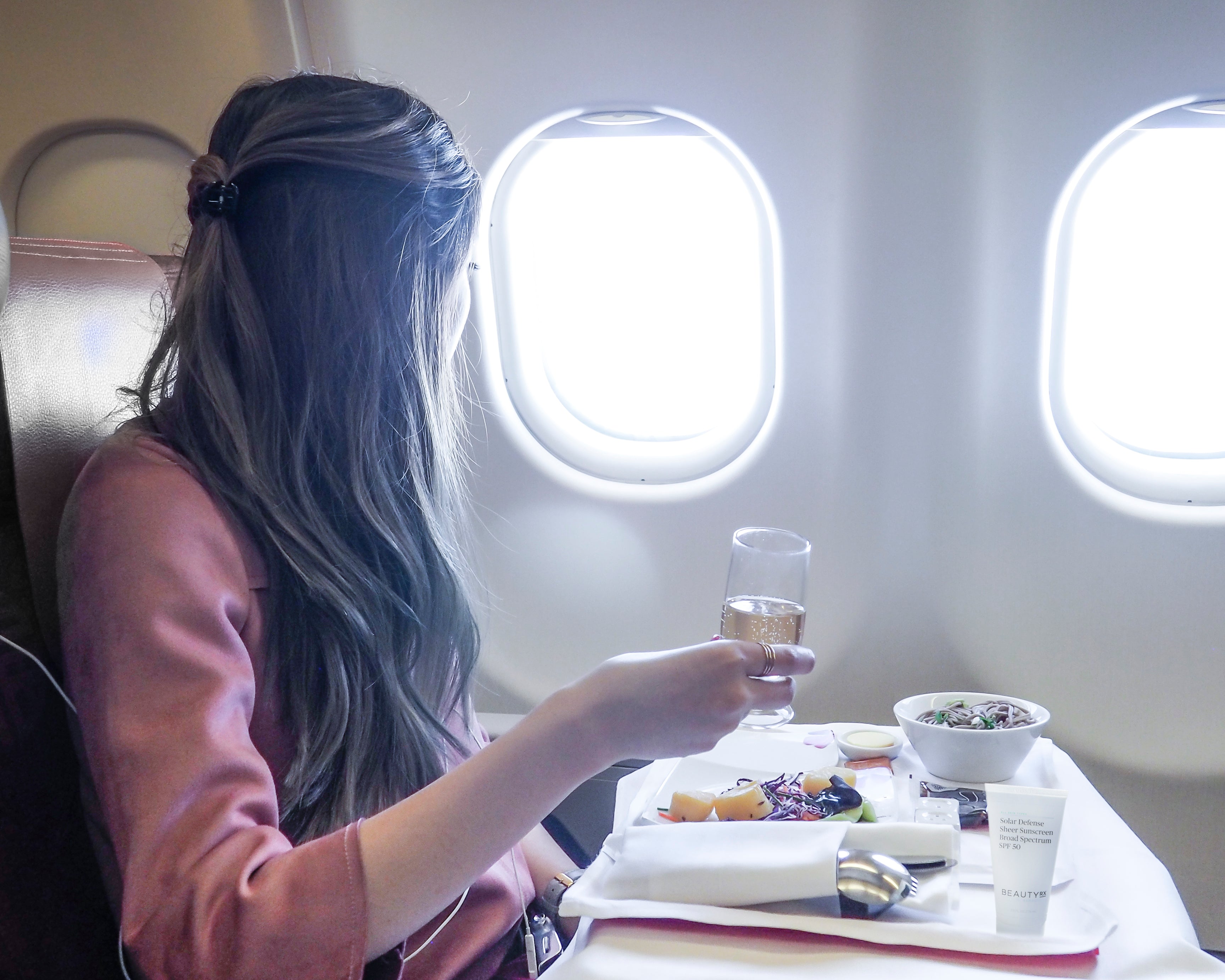 You may be aware of some of the typical causes of breakouts — the most common ones being hormonal changes, excess oil from exercise, or eating junk food. But what about breakouts caused by travel? Have you ever noticed that after a flight, your skin appears dull, dehydrated, and tired? The results you're seeing are due to the effects of pressurization and the dry cabin air of a long flight. Not to mention, the stress of last minute packing for your trip, dealing with airport security, and being last in line of Zone 4 (yes, we've all been there!) probably don't help either.
Luckily, there's a way you can prevent this airplane skin and ensure a brighter, smoother, and more radiant glow upon landing. Dr. Schultz is unpacking BeautyRx's Airplane Skin Kit step-by-step for your most convenient and effective in-flight skincare routine.
Anytime Pads
Whether you're stuck in the middle seat or waiting on standby, there aren't very convenient times to freshen up and wash your face during travel. No matter where your journey takes you, the BeautyRx Anytime Pads are your best bet to quickly bounce back from the airplane's dulling effects. Freshen up by using this product all over the facial area, avoiding your eyes and lips. These pads will cleanse built up dirt, oil, and makeup, leaving your skin feeling gently refreshed.
Hydrating Facial Mist
According to Dr. Schultz, "There is almost no humidity in the airplane cabin air, and as a result, any natural moisture you have seeps away into the air and causes your dry skin." The Hydrating Facial Mist is a quick and easy solution for this problem, providing your skin with a light boost of hydration. Use the Hydrating Facial Mist to lightly coat the entire surface of your face for a boost of hydration.
Nourishing Moisture Cream
Next, pack the Nourishing Moisture Cream to maximize the hydration your skin is receiving while in flight. This cream is packed with natural humectants, emollients, and other hydrophilic compounds. Because it's also formulated with the BeautyRx antioxidant complex Triantiox™️ which protects while it hydrates, you only need to apply a pea-sized amount to bring some much needed moisture to your skin.
Advanced 10% Exfoliating Pads
Dr. Schultz recommends repeating steps one through three prior to takeoff, mid-flight, and 30 minutes before arrival. Anytime after landing, you can use an Anytime Pad again, and then finish your travel day with an Advanced 10% Exfoliating Pad. The Exfoliating Pads brighten and clarify the skin's dulled complexion that can result from a long flight, and reveal glowing, even-toned, healthy-looking skin.
Bonus Step: Gentle Exfoliating Eye Cream
Red-eye flights are called red-eye flights for a good reason! Those overnight trips can easily lead to tired eyes. But that's all the more reason to take your in-flight skincare routine a step further with the Gentle Exfoliating Eye Cream. Pat a small, drop-size amount gently around the eye area to combat those under-eye circles from the lack of comfortable sleep. The best and most unique part of this eye cream it its pH-adjusted and buffered glycolic, which provides effective exfoliation for your delicate (and overtired) under-eye skin. Dab this gently and evenly in the space under both eyes to smooth and revive dull-looking eyes.
Maybe flying with beauty products usually gives you a headache, but one of the best parts of the Airplane Skin Kit is that it is TSA Compliant! It is packaged for your boarding convenience, giving you a stress-free and easy way to nourish your skin during your travels, so all you have to do is, sit back, relax, and get where you're going.