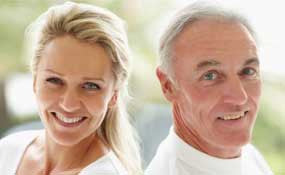 It's Chemical
While both men and women have testosterone, men have it in higher levels. As we outlined earlier, testosterone is the cause of oiliness. This means that men are product more oil, which creates a sheen on the skin and helps protect it from aging. It also means that men have larger oil glands. These oil glands increase the thickness of the middle layer of skin, which prevents the aging process.
Later in life, when women are perimenopausal, the middle layer of the skin, as well as the upper layer - the epidermis, decreases with the decrease of estrogen levels. This also causes the skin to flake, resulting in dull, matte skin - the opposite of a youthful look.
Close Shave
While men may have a significantly shorter skincare routine, most shave their face multiple times a week. Shaving is a form of physical exfoliation. Men begin shaving around thirteen or fourteen and the years of exfoliation show later in life when they have smooth, clear skin with fewer wrinkles. This alone should have you running for your glycolic!