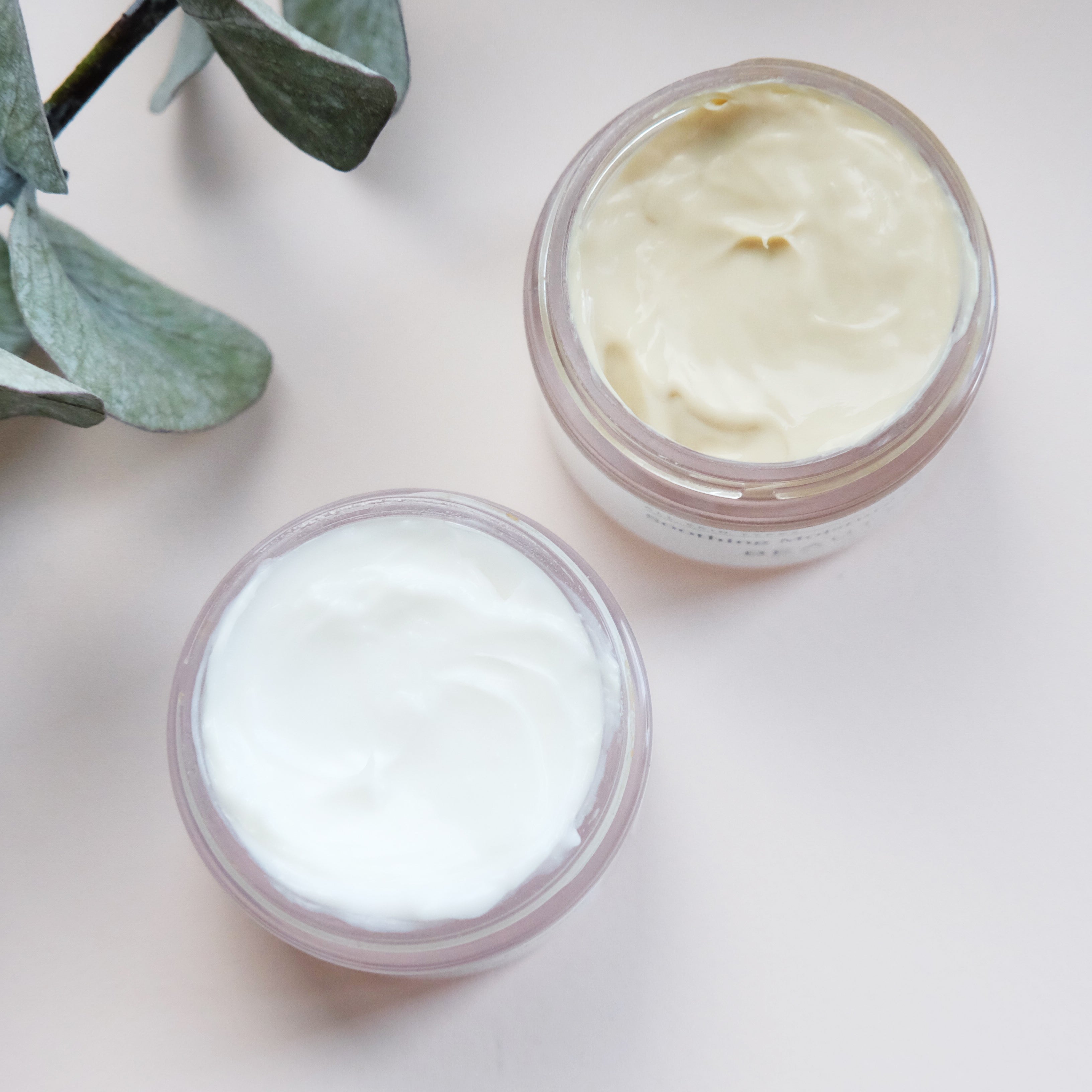 Dry skin is more than just tight, uncomfortable, and itchy skin: it's older looking skin. The key to treating this common issue? Moisturizer. It not only soothes your dryness and itchiness, but it also contributes to the appearance of plump, dewy skin. Get a consistent moisturizing routine established, and not only will you help restore your skin's hydration level, you'll also be on your way to making your skin look younger and more radiant.   
What Is a Good Moisturizer?
A good moisturizer restores the water that your skin has lost without leaving any oily residue. It should restore the appearance of volume in your skin and give you a fresh, dewy look. Moisturizer also prevents some of the stress caused by free radicals and oxidation, both of which contribute to the appearance of aging skin.
An effective moisturizer will also soften and smooth the surface of your skin. Choose a moisturizer with a texture that you find pleasant—if you enjoy the feeling of your moisturizer on your skin, you're more likely to use it consistently. And remember, consistency is essential to an effective skincare regimen with visible results.  
Your skin type will also help determine which moisturizer is right for you. A good daytime moisturizer will most likely be a little lighter in weight and texture. It may be wise to choose one that contains antioxidants as well. It's true that antioxidants work best at night—unhindered by the sun's UV rays—to repair and nourish your skin, but using one during the day will also help protect your skin from free radicals.   
For a nighttime moisturizer, Dr. Schultz recommends one with hyaluronic acid. In his words, "Hyaluronic acid binds water very well, so it forms a lot of volume and is very important in maintaining the volume of the dermis. As we get older we normally lose collagen and hyaluronic acid both as a function of age and sun damage."  
Is Coconut Oil A Good Moisturizer?
Coconut oil is quite popular these days, but does it really restore water to your skin, or does it add excess oil? Dr. Schultz says, "If you use coconut oil—or any oil for that matter—on acne-prone skin, you are up a creek without a paddle." Since excess oil is one of the root causes of acne, "no one with acne should be putting oil on their skin," Dr. Schultz says. "Coconut oil clogs pores," he says, and therefore it aggravates acne. Anecdotally, coconut oil may work well for some people, but a water-based or oil-free moisturizer is a safer bet, especially for areas of the body that are prone to breaking out like the face, chest, or back.  
Is Vaseline A Good Moisturizer?
Vaseline is an occlusive product, so it prevents moisture from evaporating by sealing the skin and protecting it from dry, cold air. It's anhydrous, meaning it contains no water—and Dr. Schultz says that "it has no direct impact on the amount of water in your skin." He also says, "All occlusive products have the potential to clog pores, depending on your skin's level of oiliness." However, it shouldn't be a problem on areas of the body that do not have high concentrations of oil glands. Only use it on the face if you have mature skin with low oil and low water levels. Vaseline is allegedly non-comedogenic, but Dr. Schultz has found that it can cause breakouts.    
Good Daily Moisturizer
Although some people do not need a moisturizer in their daily skin routine, others will find that it provides much-needed relief from dry, flaking skin. For dry skin, the Nourishing Moisture Cream is an excellent source of hydration. This medium-weight moisturizer is oil-free, so it won't contribute to breakouts. At the same time, its rich texture allows it to penetrate the skin and heal it. The Nourishing Moisture Cream also contains rejuvenating antioxidants. People with dry skin will find this moisturizer very helpful for treating uncomfortably tight, stripped skin.
Another good reason why people with dry skin should use moisturizer daily is to help diminish signs of aging, like fine lines. Hydrating the skin causes it to expand a bit—the skin is the body's largest organ, so it acts like a big sponge.
Good Moisturizer for Acne Prone Skin
You can still moisturize if you have acne-prone skin. You might have combination skin—where your cheeks are dry but the T-zone is oily—that needs moisturizing in order to restore hydration. Remember, oily skin does not mean hydrated skin. What you need is a lightweight moisturizer that does not clog pores. BeautyRx's Light Rehydrating Lotion is an excellent moisturizer for hydrating skin without creating any excess oil and contributing to breakouts.
Good Moisturizer for Sensitive Skin
For sensitive skin, you'll need a moisturizer that does not cause irritation and that protects skin from free radical damage. The Nourishing Moisture Cream contains BeautyRx's proprietary antioxidant complex, Triantiox™. It's formulated with Japanese green tea leaf extract, vitamin E, and soybean seed extract. This moisturizer has no added perfumes and fragrances, which is optimal for sensitive skin. It's also suitable for dry, combination, normal, and oily skin types.
Good Moisturizer for Men's Skin
Just like everyone else, men need to keep their skin hydrated with a moisturizer that's appropriate for their oil and water skin type. Check out Dr. Schultz's quiz for finding out your skin type and building the perfect regimen.
If your skin is prone to being oily, use the Light Rehydrating Lotion for lightweight moisture. If your skin is drier, use the Soothing Moisture Cream for ultimate hydration. Dryness around the eyes affects men as well as women; the Ultra Hydrating Repair Cream is a great choice to moisturize this sensitive area. 
Your At-Home Regimen
Make sure you know your skin type so that you can choose the best moisturizer for you. If you take any of our above recommendations, remember to be consistent and moisturize daily.
The best time to apply moisturizer is immediately after a warm bath or shower, when your pores have been opened. Pat your skin dry and apply moisturizer in order to lock in any hydration that your skin picked up during your bath. And remember not to bathe in water that's too hot—this will dry your skin out even more.
During the winter, reapply moisturizer frequently throughout the day. A heavier, richer moisturizer will penetrate skin more deeply during the colder seasons.