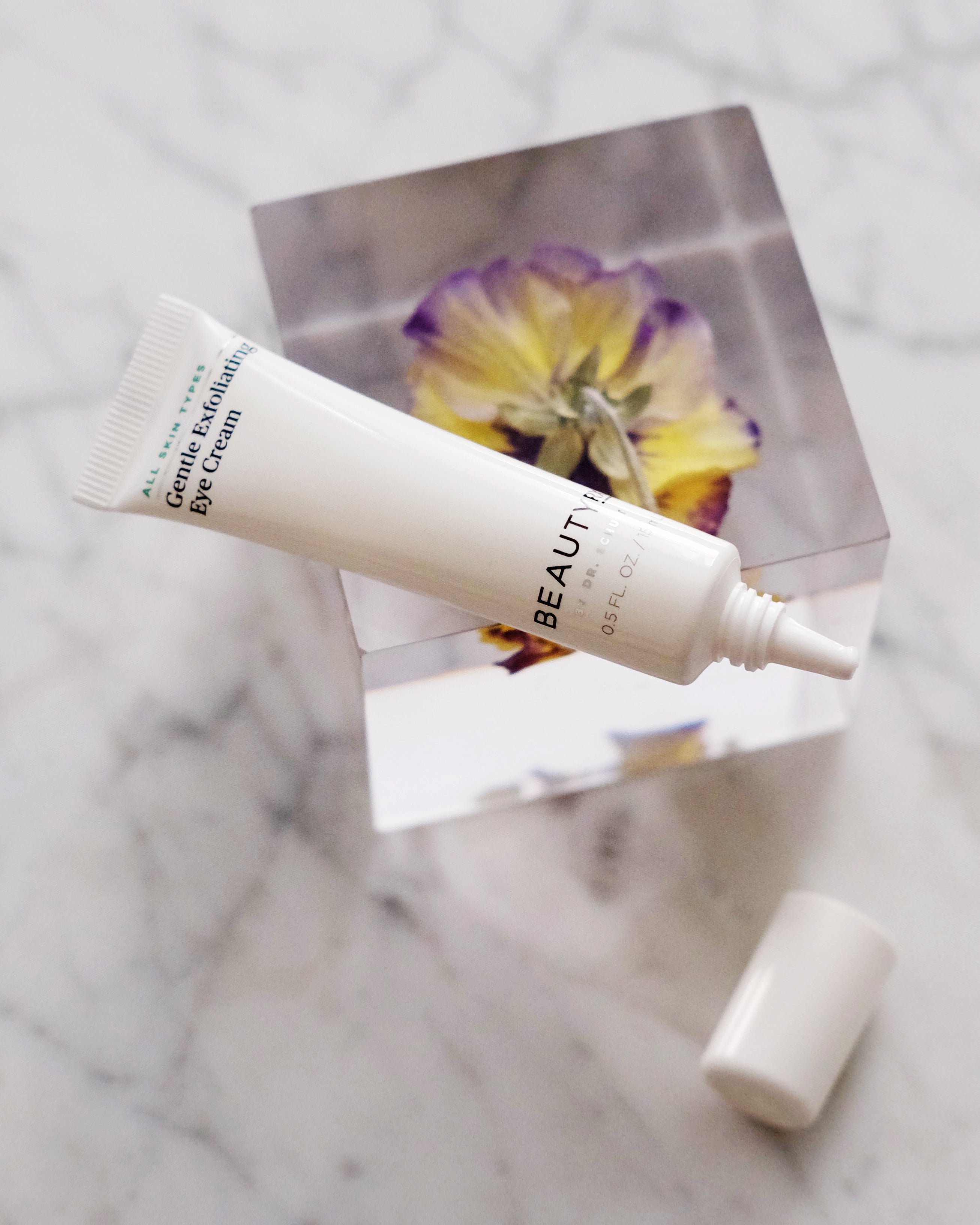 Whether you're 42 or 24, there's one skin condition that everyone can expect to deal with at some point in their lives: wrinkles. They're those little, fine lines and deep, exaggerated creases we'd love to erase. Unfortunately, wrinkles like to show up on your skin sooner rather than later, and can even start to appear as early as your mid-twenties. Whether you've been dealing with fine lines for decades, or you're noticing there are some wrinkles that just won't disappear quite as easily anymore, believe it or not, transforming their appearance is possible with the right ingredients. Dr. Schultz has spent decades uncovering how to reveal your brightest, smoothest skin. And while the reversal of wrinkles can be difficult, his 10,000 patient visits a year have proved there are definitive strategies to help minimize their appearance and even prevent new wrinkles from forming. In other words, now is the absolute best time to look your absolute best.
What Causes Wrinkles
Before you learn how to get rid of wrinkles, it's important to understand what causes them in the first place—and there are two main causes of wrinkles. The first that Dr. Schultz describes is "repeated unprotected exposure to the sun, which causes collagen and elastic tissue in the skin to break and causes lines and wrinkles." So it's imperative that you wear sunscreen, no matter the weather, for proactive protection against skin-aging from sun damage.
Even if you've spent years without protecting your skin from damage, all is not lost. As the saying goes, "The best time to plant a tree is twenty years ago. The second best time is now." Forgoing sun protection over the years may have made your skin appear to age faster, however, starting to use proper sunscreen application now can make all the difference a few years down the road. This is your essential first step in combating the look of wrinkles in the years to come. So while you'll of course use products and ingredients to reverse the signs of skin aging, you should also be using sunscreen to prevent any further damage.
Beyond sun damage, wrinkles form a second way that you may not be thinking about from day to day. Repeated motion of the skin, including creasing and folding like frowning, smiling, and squinting, all cause wrinkles. This expressive back and forth motion causes the collagen and elastic fibers in the skin to break. Dr Schultz says to think of it like a paperclip: if you keep bending the paperclip back and forth, eventually it will break, and the same goes for the elastic fibers and collagen in your skin. Those fibers in your face bring your skin back to its normal, youthful-looking state, so if you repeatedly stretch them out and eventually overuse them, that's when your wrinkles become permanent. And while we generally assume that our skin has the capacity to repair itself, once collagen is damaged, our skin can't make much more.
Types of Wrinkles
Forehead Wrinkles
Forehead wrinkles appear because of that same paperclip analogy Dr. Schultz uses to help you understand how all wrinkles can form. The continuous breakdown of collagen and elastic fibers from facial movement—especially in that very expressive area of your face—will create wrinkles that over time become more permanent.
Deep Forehead Wrinkles
If you're dealing with deeper forehead wrinkles, they often appear to be deeper creases, as opposed to fine lines. These deep creases can also create shadows, which you may mistake for discoloration.
Eye Wrinkles
Because the area around the eye is the most sensitive, delicate, and thinnest skin on your face, it is also most easily wrinkled. Most often, tiny fine lines and wrinkles, referred to in this area as crow's feet, appear at the edges of the eyes and underneath the eye area.
Neck Wrinkles
In addition to wrinkles being formed from continuous movement, we mentioned that sun damage can cause wrinkles, too. This is true especially for the neck area. You may be diligent about wearing sunscreen on your face, but if you aren't also protecting your neck, you may develop wrinkles in this area as well.
Chest Wrinkles
If you're not applying sunscreen to your neck, chances are you're not applying it to your chest either. Your chest, or décolletage as it's sometimes called, can develop wrinkles from too much sun exposure, but it can also happen from having a larger cup size, sleeping on your side, or even wearing a sports bra. All of those repeated and prolonged creasing actions ultimately damage the collagen and elastic fibers in the dermis and cause wrinkles on your décolletage, just like on your face.
How to Get Rid of Wrinkles
To keep collagen from breaking down, there are a few preventative steps you can take:
First, invest in an effective facial moisturizer. Moisturizers are typically used to keep skin hydrated and treat dry, flaky skin. This is because when you apply a moisturizer, the relief comes from adding water back into the surface cells of your skin. Replenishing that lost water means adding volume, which ultimately fills unwanted fine lines. Your moisturizer should have rich, nourishing ingredients like hyaluronic acid and shea butter, which are great for keeping skin hydrated and adding in the subtle volume you've lost due to dryness.
Second, find skincare products that contain peptides. In the simplest terms, peptides are tiny proteins. We've recently learned that, in addition to their roles as amino acids, peptides can act as messengers to different parts of the body. They have the ability to tell the body and cells to either perform or to stop making certain actions. "So a peptide that goes into a fibroblast can tell that fibroblast to make more collagen, and it will make more collagen," says Dr. Schultz. "That's how we help fight lines and wrinkles with peptides." Adding a product with peptides into your routine can help prevent further wrinkles from being formed due to this cellular communication.
Finally, if you're serious about preventing wrinkles, as we mentioned above, sunscreen is the most important preventative measure you can take. Unprotected exposure to the sun causes collagen and elastic tissue in the skin to break, and you're getting more sun exposure than you might think. Even on cloudy days, the UV rays from the sun are affecting your skin. Dr. Schultz says, "Unless it's so dark you can't see your hand, you should be wearing sunscreen." Including sunscreen in your daily skin care regimen is crucial to preventing wrinkles. But just because sunscreen is part of your daily routine doesn't mean it needs to be cakey or white. Choose a lightweight sunscreen and it'll double as a primer for your makeup, creating a smooth (and protected) surface for your makeup to apply flawlessly.
If you want to prevent wrinkles, Dr. Schultz recommends taking these general proactive measures, which will help stop the breakdown of collagen and leave your skin smoother and softer. But what if you already have fine lines and wrinkles—are they here to stay? Not quite. Read on for more ways to transform your skin to look younger and smoother.
How to Get Rid of Forehead Wrinkles
Using a daily exfoliant is essential for getting rid of fine lines and making your skin appear younger. We'll touch on that more below, but if you're at the point where you need to get rid of deep wrinkles, you may need to have an in-office procedure like Filler or Botox. The loss of collagen and elastic tissue, as we stated above, is a loss of volume that can contribute toward deep forehead wrinkles. When you restore the volume that's been lost, Dr. Schultz explains, "It's sort of like blowing up a beach raft that's been partially deflated. You see lines and furrows in the raft without its volume, but the moment you fill it back up and restore its volume, it's nice and smooth." That's what fillers are doing for your skin.
If you're looking for a high-powered preventative measure, the amazing thing about Botox is that as soon as you start using it, you slow down the aging process. "You may not have been destined to get lines until your 20s, 30s, 40s, or 50s, but whenever you are going to get them is determined by either your genetics or by the amount of sun exposure your skin has had. And with Botox, you'll delay the onset of these wrinkles because you will be producing the material that helps to fight their recurrence," explains Dr. Schultz. In other words, if you choose to get Botox before you get deep lines on your upper forehead (or frown lines or crow's feet) then you will successfully prevent wrinkles from occurring in the future.
This safe, non-toxic procedure works by paralyzing the muscles that are constantly contracting and causing your wrinkles in the first place. Getting Botox before your skin has been through repetitive creasing and folding means the collagen hasn't broken down yet and you can prevent it from doing so in the future. So wherever you use Botox, it will act as a preventative agent against future wrinkles.
How to Get Rid of Neck Wrinkles
Once you get your immediate fix, it's time to start thinking about longer term solutions for your skin. But don't worry—we're not talking years. You can start seeing the benefits of this skincare system in two weeks. If you're dealing with the occasional fine line here or there, the incredibly easy, at-home solution you should start today is: daily exfoliation.
Dr. Schultz recommends chemical exfoliation above all other kinds of exfoliants. Chemical exfoliants effectively and gently revive dull, old, tired-looking skin. They do this by dissolving the "glue" binding dead cells together on the surface of your skin and clearing them off so you're left with a smooth surface free of dead skin cell mounds. By practicing daily exfoliation, you remove those dead skin cells and improve the firmness, brightness and smoothness of your skin over time. In fact, in a consumer study of The Progressive Peel, which is Dr. Schultz's proprietary formula of Tetrafoliant®—an advanced glycolic acid you can't find anywhere else—94% of participants had a reduction in fine lines. With regular, daily exfoliation, you can start seeing results in just two weeks.
How to Get Rid of Wrinkles Under Eyes
Although you may think exfoliation could be too harsh for your sensitive eye area, with the right products and ingredients, you can reduce fine lines and wrinkles around your eyes with daily exfoliation as well. Look for a gentle eye exfoliant that has the power of peptides and soothing ingredients like Lavender Extract and Willowherb.
Additionally, as we mentioned above, if you want an immediate quick fix to improve fine lines and wrinkles, Dr. Schultz has a trick to bring back the volume in no time at all. And the secret weapon? Moisturizer. Moisturizers work to soften and volumize your skin by infusing water from the outside-in, improving the look of fine lines and wrinkles. Dr. Schultz explains, "They do it with humectant ingredients that literally grab, bind, and then cause water to absorb into and slightly swell your skin. The safe swelling will temporarily diminish the appearance of lines and wrinkles."
How to Get Rid of Chest Wrinkles
Dr. Schultz recommends that all of his patients exfoliate every day, not only the face, but the neck and chest area too. A daily exfoliant removes the dead skin cells sitting on the surface that can make your skin look uneven, dull, or cause breakouts, revealing the glowing skin underneath. However, if you have deep chest wrinkles that are heavily creased, Dr. Schultz has some advice on how to restore the volume lost to your skin. Watch this video below for his suggestions on how to treat chest wrinkles:
Best Treatments for Wrinkles
Best Eye Cream for Wrinkles
To get the most out of your eye cream for wrinkles, make sure it's doing double duty. With both wrinkle-busting Tetrafoliant® and the humectants and emollients to retain moisture and bring back volume, BeautyRx's Gentle Exfoliating Eye Cream is the best way to give your eyes a refreshed, youthful glow.
Best Night Cream for Wrinkles
The Soothing Moisture Cream from BeautyRx is the ultimate night cream. This non-greasy, oil-free moisturizer glides smoothly onto skin, providing deep hydration for any skin type. Enhanced with BeautyRx antioxidant complex Triantiox™️, the Soothing Moisture Cream protects while it hydrates, and regular use of this oil-free moisturizer will help diminish the appearance of fine lines.
Best Moisturizer for Wrinkles
Packed with emollients and humectants, the BeautyRx Ultra Hydrating Eye Repair Cream provides deep, luxurious hydration while visibly improving the eye area skin's complexion, moisture, and texture. Enhanced with Pentabrite™️ and Tetrafoliant®, two BeautyRx proprietary compounds, this eye cream brightens while it decreases the appearance of fine lines.
Best Chemical Peel for Wrinkles
The Progressive Peel delivers unparalleled glycolic technology in Dr. Schultz's proprietary formula Tetrafoliant® to gently and effectively slough away your layer of dead skin, finally allowing your natural, beautiful skin to shine through. In a consumer study, 94% of participants experienced a reduction in the appearance of fine lines. And the best part? This system is gentle enough to use every day.
Best Eye Serum for Wrinkles
The winner of Shape Magazine's "Best Anti-Ager" and Total Beauty's "Best Serum," the BeautyRx Triple Vitamin C Serum is an antioxidant serum delivering real, luxurious results. After a consumer study, 100% of participants said their skin looked smoother, brighter, softer, and more youthful. Containing three of the most effective forms of Vitamin C, this serum has the optimal formula to fight against dull skin and nourish skin cells, absorbing three times faster than other Vitamin C serums. Don't just take our word for it: after a consumer study, 100% of participants said they loved the look of their face immediately after application.
Your At-Home Regimen
No matter what kind of wrinkles you're facing, every regimen should include sunscreen to prevent further wrinkles from forming, daily exfoliation to get rid of uneven texture and fine lines, and moisturizer to increase volume. Wrinkles are an incredibly common skin condition, and no matter who you are—from skincare newbie to seasoned pro—just a couple of products and a little bit of knowledge can go a long way in preventing and getting rid of them once and for all.