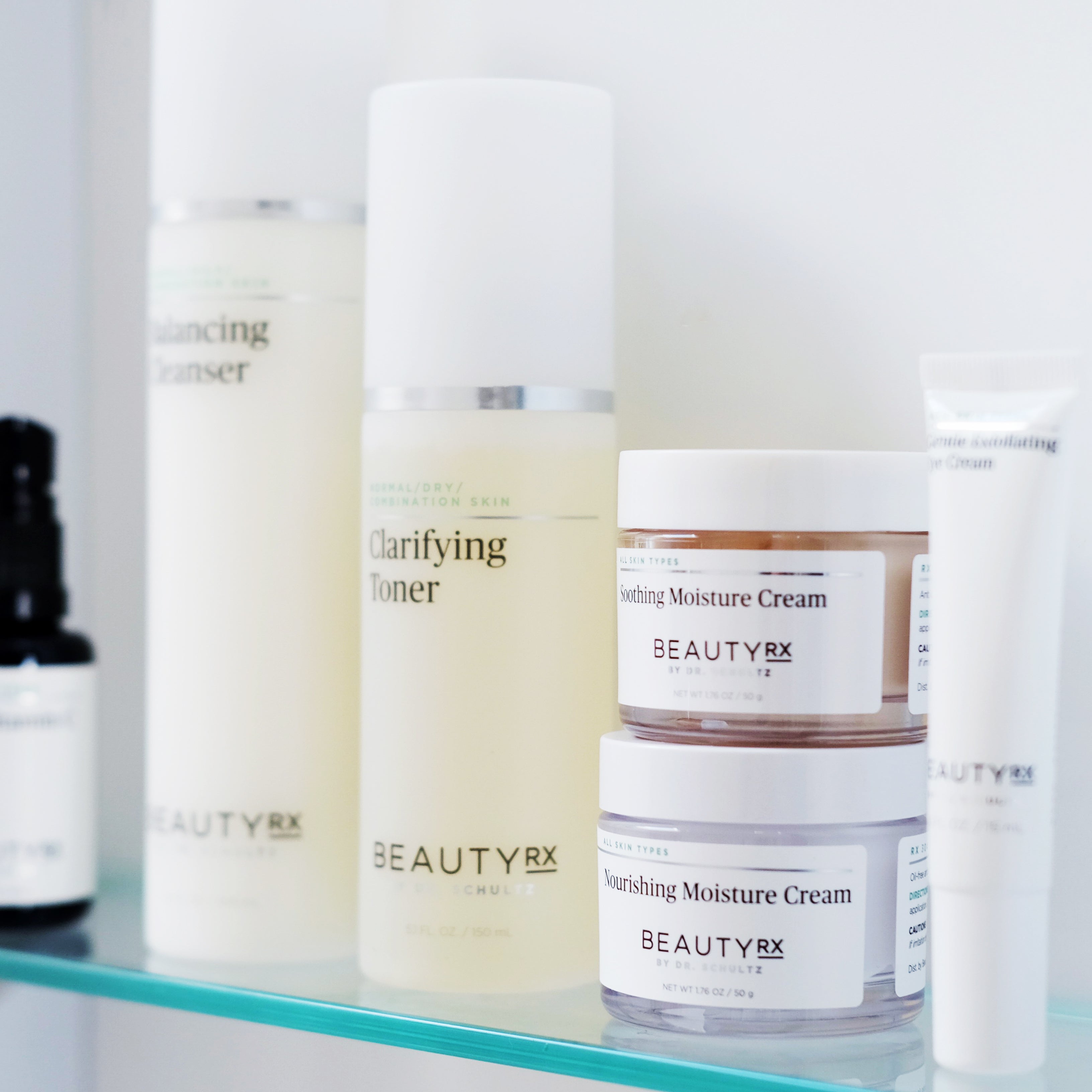 Believe it or not, figuring out the right order of application for your skincare products is one of the most challenging issues in all of skincare for most people. And perhaps that's what has stopped you from getting serious about transforming your skin up to this point. Who's got time and energy to figure out not only what to use but when? You may have a medicine cabinet full of unused, albeit amazing skincare products, but you're not using them because you're not sure how they all go together.
And your intuition is right: to get optimal benefits, the order in which you apply them matters. Luckily, Dr. Schultz has taken the guesswork out of figuring out the right order of application for your skincare routine. With just a little bit of knowledge from a NYC leading dermatologist, you can make sure your entire medicine cabinet works for you. And once you find out where each skincare item belongs in your beauty routine, you're well on your way to having your most glowing, wrinkle-free skin yet.  
In What Order Should I Apply My Skincare Products? 
If you're asking yourself, "What order should I apply my skincare products?" you're not alone. Most people have the same question because there are so many products for each and every skin concern. You're using a daily facial cleanser to get rid of excess dirt and oil, a moisturizer to preventing dry skin and exfoliants to brighten your skin and maintain that youthful glow. And the order in which you apply these skin-perfecting products will help them to work even better.
Dr. Schultz gives us the scoop on how to do just that: "Apply your products from lightest to heaviest. The rule to take away is skincare products that are lighter in weight like lotions and watery products are applied first. The heavy ones like creams are applied second and the heavier ones like ointments are applied last." The lighter the product, the earlier in your skincare process it should be applied to your skin. When you apply lighter products to your face first, they absorb quickly, allowing for the heavier products to sink into the skin as well. If you apply the heavier products first, they can potentially block the lighter ones from getting to your skin.
Below is a guide to the general order of product application. However, I advise you to begin with a cleanser and a toner, and then apply products from lightest weight to heaviest.
Morning
1. Cleanser
2. Toner
3. Sunscreen
4. Moisturizer
Evening
1. Cleanser
2. Toner
3. Exfoliant
4. Vitamin C Serum
5. Moisturizer

The Skincare Product You Should Always Apply First
You know by now that you should be wearing sunscreen every day, but when you apply the sunscreen makes a difference in its efficacy. Make sure that after you use your face cleanser and toner, the first product you're applying is sunscreen. Dr. Schultz says, "First, I always recommend applying sunscreen the way the FDA tests it, which means it should always goes on first. For the sunscreen to work, it has to bind with the skin in a chemical reaction to make it able to absorb or block the sun rays." There can't be anything in between the sunscreen and the skin. The only thing that can be applied before sunscreen are acne spot treatments. They are usually very thin and won't show on the skin. So you can apply them and then put sunscreen on. Every other product should go on after you apply sunscreen."
BeautyRx Takes the Guesswork Out of Applying Your Skincare Products 
Now that you're an expert in the correct order of application for all skincare products, Dr. Schultz has made it even easier. He's taken his decades of experience and feedback from over 100,000 patient visits to make sure BeautyRx products are easy to use, right out of the box. And he's done that by creating a numbering system for the entire line to keep it simple. Each product has its own Rx number listed on the product and the box, and you simply use each product from lowest to highest. So no matter what product combination you're using, there's no guessing and no confusion. Just results.
Here's how Dr. Schultz explains to apply your products:
Your At-Home Regimen
Applying skincare products in the most effective way is actually much simpler than you may have thought. As long as you apply them from lightest to heaviest and use your sunscreen first, then you'll always be using them correctly and a younger-looking, gorgeous glow will no longer be hiding out in your medicine cabinet.