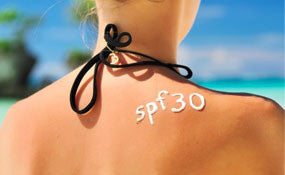 The choice of sunscreens is ever increasing. For example, SPFs range from single to triple digits and textures run from liquid to powder. However, do all these products deliver the same level of protection?
Double Duty
Many moisturizers claim that they include SPF. Obviously, two products in one makes the mad rush in the morning that much more manageable. But you may think that these moisturizers still warrant an additional application of SPF, as the included protection must be diluted, right? Happily, the SPF you see on your bottle is what is going on your skin. When the FDA tests the products (which, if it has sunscreen, you can rest assured they did), they test the product as is, moisturizer included. They then determine the SPF level so you can trust the level on the bottle. So as you dash out the door, be sure to save a few seconds to apply this double duty product.
Powder Play
Sunscreens also come in a powder form, which claims to protect your skin while creating a flawless finish and fighting the shine from the summer heat. Unfortunately, the news for these types of products is not as good as for the moisturizing sunscreens. Dr. Schultz believes that to achieve the SPF value of these powders, you would have to apply so much that it would no longer enhance your complexion, but rather create a cakey effect. Also, it is hard to ensure that you are evenly covering your entire face with the powder product. Instead, stick to a sunscreen or a moisturizing sunscreen and use a translucent powder to set it if you want to fight the shine all summer long.