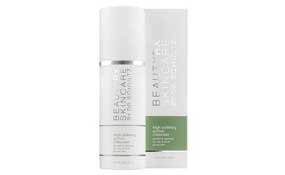 High Potency Active Cleanser
The High Potency Active Cleanser is the ideal cleanser for people with extremely oily and acne prone skin. It contains 10% Benzoyl Peroxide to help combat acne breakouts by penetrating pores and killing bacteria. Unlike other acne cleansers, which can leave the skin dry, flaky and tight, the High Potency Active Cleanser contains hydrators that provide essential moisture to the skin, so it's even suitable for sensitive skin. This cleansers also contains ingredients which promote the production of anti-inflammatory agents in the skin, truly healing skin on all levels.
Contest Alert!
Four lucky followers will win one of our new products. Follow @BeautyRxSkin on twitter for a chance to win!