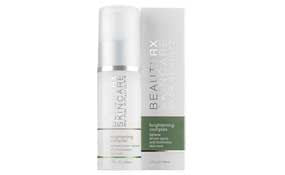 Brightening Complex
One of Dr. Schultz's most popular products, the Brightening Complex targets sunspots and hyperpigmenation without hydroquinone. Instead, this treatment product uses peptides for smart depigmentation. This means that the product will target the dark area without lightening the normal colored skin around the spot. The Brightening Complex also contains calming ingredients to help reveal radiant skin even more quickly.
How to Use It
The Brightening Complex works best when combined with two other products: a sunscreen and an exfoliant. The sunscreen is an essential part of removing brown spots because if you are not protecting yourself from new brown spots, what is the point of treating your old ones? And the exfoliant further aids in the removal of the spots. The extra brown pigment that has already been produced is housed in your dead skin cells. An exfoliant will remove some of these dead skin cells and help lighten the brown spot. In conjunction with the Brightening Complex, which signals your body to stop producing brown pigment, you will have brighter more even skin in no time.
Contest Alert!
Four lucky followers will win one of our new products. Follow @BeautyRxSkin on twitter for a chance to win!