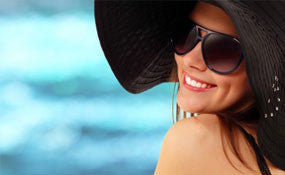 Between the salt air at the beach, the damaging rays of the sun and the chlorine at the pool, your skin encounters a lot of elements that can keep it from looking its best. So as the summer comes to an end, use some of the extra daylight hours to get back to flawless.
Rough Spots
After fun in the sun, you probably picked up some sunspots and sacrificed that smooth skin you cultivated all spring. For the brown spots, you will need three products: a sunscreen, a bleach, and an exfoliant. Use a sunscreen daily before beginning this routine because if you are not preventing new brown spots, why fix the old ones? To treat the spots you already have, first use a bleach. The bleach is not actually a bleach at all. Instead, when applied to your brown spots, it signals the body to stop producing the extra brown pigment. While hydroquinone used to be the standard ingredient in these products, new peptide-based products, such as the BeautyRx Brightening Complex, have proven more effective. Next, the exfoliant will help remove the clumps of dead skin cells already on the surface of your skin that house the extra brown pigment. The exfoliant will also address any roughness you may have.
Start with an 8% glycolic for your face and apply it nightly. Your skin will be glowing by the time your calendar reads September. And treat your body the same way, just up the ante. Use a 10-12% glycolic for your body; the skin on your body is a little bit tougher than that on your face.
These are the first steps you should be taking to address your summer skin problems. Check back on Wednesday for the final ones.