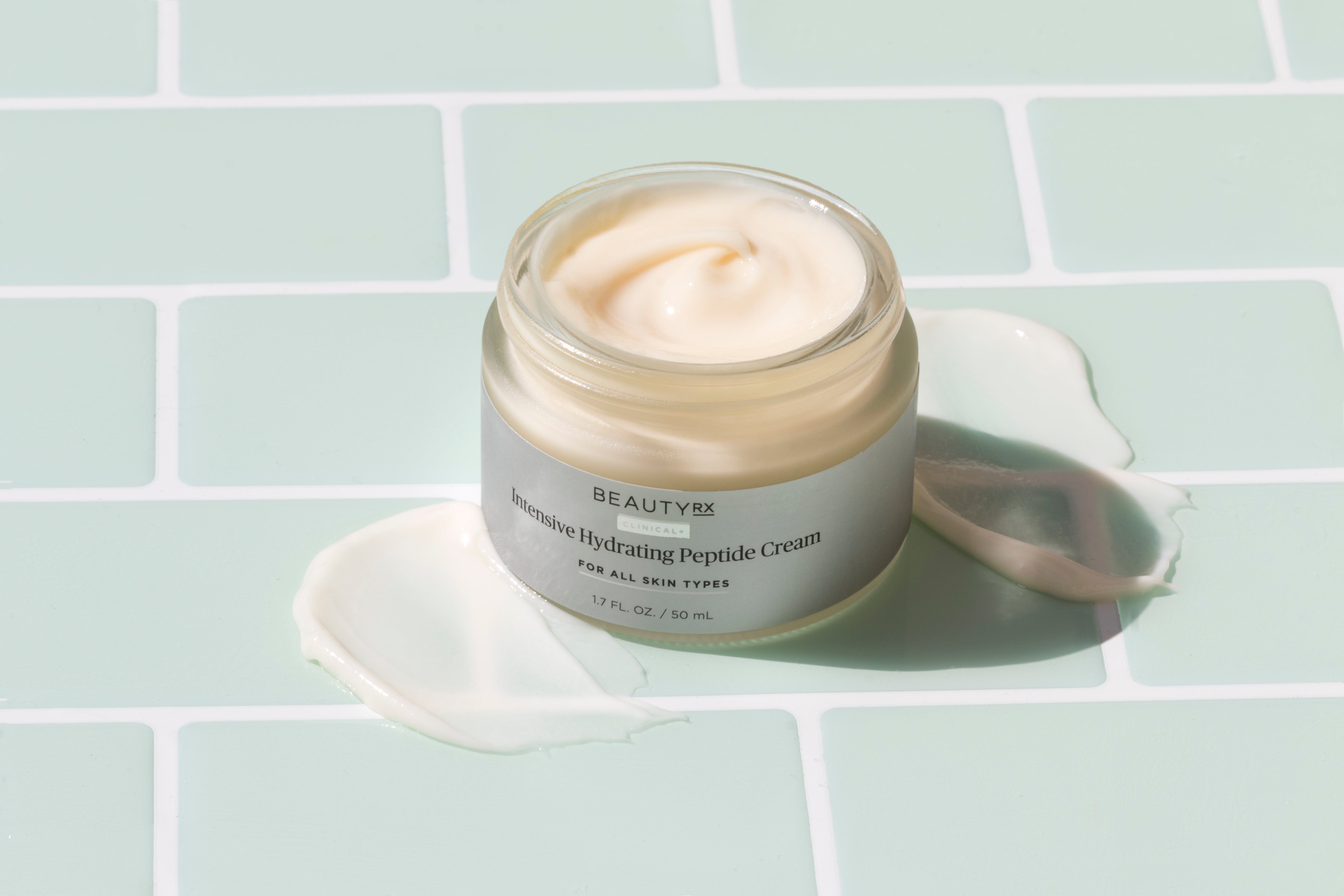 Your mother may have always told you that the key to youthful-looking skin is to use a moisturizer. And she's not wrong! Using a good moisturizer brings a soft, smooth texture to your skin's surface, reducing the dull, crepey texture that makes your skin look older than it should. You know moisturizing is an important part of your skincare routine, but when there are so many moisturizers for you to choose from, how do you know which moisturizer is best for your skin? Today, we're breaking down how to make that choice.
Determine Your Water and Oil Skin Type
Your first step should always be to know your skin type. Once you know your skin type, you can assess which moisturizer will be the most effective, least irritating, and least likely to make your skin break out. Dr. Schultz explains, "Your skin has water glands that make water and oil glands that make oil, and it's the relative balance of oil and water on the surface of your skin that determines whether you have dry, normal, oily, or combination skin." For instance, if your skin is dry, you need more water and then you have to decide if you want an oil base or an oil-free base for your moisturizer. If you pick an oil-base when you have too much oil in your skin, even if it's dry, that's when you can break out. Take his build your regimen assessment here so you can choose the right moisturizer with confidence.
Choose Moisturizers with the Best Ingredients
Once you know your skin type, you'll want to decide if it's best for you to wear a daytime or nighttime moisturizer, or both. Your daytime moisturizer will tend to be a little lighter in texture, but you should also look for one that contains antioxidants. Antioxidants help protect your skin from free radicals like UV rays during the day, so a moisturizer with antioxidants will help keep your skin soft and protected.  If you choose a nighttime moisturizer, you'll want to choose one with hyaluronic acid. Dr. Schultz says, "Hyaluronic acid binds water very well, so it forms a lot of volume and is very important in maintaining the volume of the dermis. As we get older we normally lose collagen and hyaluronic acid both as a function of age and sun damage." Your skin naturally loses hyaluronic acid as part of the aging process, so a moisturizer that uses hyaluronic acid to restore a youthful look while keeping your skin soft is a must have.
Lightweight Moisturizers When You're Prone to Breakouts
Remember what we said about your skin's water and oil balance? Even if you have the oiliest skin type and you're prone to breakouts, you can still moisturize. In fact, if you have combination skin — where your cheeks are dry but your T-zone is very oily — you'll definitely want to moisturize. You can still get great hydration by choosing a lightweight, oil-free moisturizer. By choosing a lightweight moisturizer that is formulated to not clog pores, you can make sure your skin gets the moisture it needs without the excess oil and congestion.
"product-embedder" data-product-id="5734453379" data-width="article-width">
When You Don't Need a Moisturizer, Don't Use One!
Believe it or not, you don't always need a moisturizer. Your facial skin could be flaking from dryness or dandruff. As Dr. Schultz explains, "If there is flaking from dandruff on the face, ironically, this is from excess oil production, not a lack of moisture. This excess oil causes inflammation in the skin which then causes premature shedding of the inflamed surface skin cells — that's when you get flakes on your skin's surface." When you get this kind of flaking, you don't need a moisturizer, you actually need an over-the-counter ketoconazole or cortisol cream instead.
Simply knowing your skin type and which ingredients will bring out your best skin will put you well on your way to cutting through the noise and choosing the right moisturizer for you. A great moisturizer should be able to protect, volumize, and keep your skin moisturized. So find the best moisturizer for your skin and tell your mom that, as per usual, she was right.