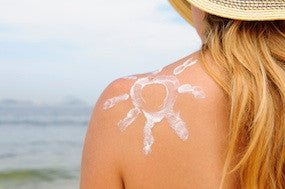 Over the Labor Day weekend I headed to the countryside of West Virginia to visit my sister. One morning, we went kayaking down the Muskingum River, which took about three hours. Although we made one pit stop (to jump off of a rope swing) the majority of our time was spent smack dab in the middle of the river, with no shade to protect us from the sun.
It was cloudy enough that I could get by without sunglasses and I didn't feel hot, but you can bet that the sun's rays were still getting through. Good thing I applied sunscreen before I set off downstream.
Sunburns happen
Don't beat yourself up if you happen to get a bit of extra color; even dermatologists get a sunburn from time to time. Severe sunburns can cause blisters, fever, and might require medical attention; thankfully, most of us only have to contend with the uncomfortable burning sensation and classic redness that comes with a first-degree burn. While it takes time to heal, it is only natural to seek relief and a speedy recovery.
What to do for your sunburn
- Take Aspirin or a pain reliever like Advil or Aleve
- Use a topical milk and water compress; the evaporation of the milk and water cools the burn and the protein in the milk buffers the irritated skin for immediate relief
- Apply cortisone ointments (not creams) three or four times a day
- Take a bath of cool or lukewarm water and pat yourself dry
- Use aloe vera for additional relief from that burning sensation
What not to do for your sunburn
- Don't take a cold bath or a shower
- Don't rub your skin dry - ouch!
- Don't use topical anesthetics, such as benzocaine, or topical antihistamines like Benadryl
- Don't go back out in the sun (really, this one should be a no-brainer)
Keep your cool
After a few days, your skin should recover. While you can use products (like exfoliants) to help reduce the effects of photo-aging, your best bet is to put sunscreen on before you head outside. Let's see... 72 hours of pain? or 15 minutes of sunscreen slathering? Spend that extra time on prevention, your skin will thank you later.