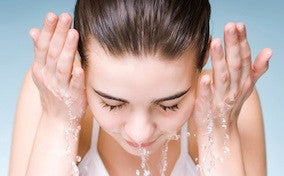 As much as I didn't want to get out of bed yesterday morning, the one thing I wasn't bothered to get back to was my skincare routine.
When Skincare Routines Change
It's amazing how heading out of town can disrupt a routine; at home with my family, I was going to bed at a different time (much earlier) and leaving the makeup in the bag. That doesn't seem so bad, right? While I do think giving my skin a bit of a break from the usual foundation, blush and mascara trio did some good, I skipped out on exfoliation and my daily/nightly cleansing a time or two which... isn't so good.
And I actually noticed a change in my skin. In the times that I did put on a bit of makeup... dry, rough patches were distinctly visible on my cheeks. After New Year's weekend, which rounded out a week of indulgences, let's just say I had a blemish or two to show for it.
Getting Back In The Habit
I got back to the city around five in the afternoon on Monday and, after unpacking and settling in, I took a long hot shower to get right back into the swing of things. After cleansing, I applied my exfoliant, followed by a layer of an antioxidant cream. I felt instantly better when I got into bed, and even more so the next morning.
So, while the New Year is all about resolutions, I think it might be worth focusing on continuing the good habits we've already established for ourselves, and to use this time as a reminder to keep 'em going. Haven't started a great skincare routine yet? Well, it's never been a better time to start.
Have any great skincare resolutions you'd like to share with us for 2012? Let us know by commenting below.