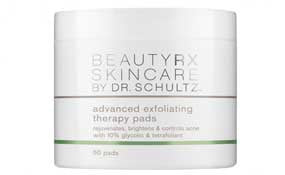 What is Glycolic
But what is glycolic exactly? In this week's DermTV episode, Dr. Schultz outlines this ingredient that he calls "the most important therapeutic treatment for your skin." If you only watch one episode this year, make it this one:
BeautyRx Glycolic
The numerous benefits of glycolic acid are the reason that our exfoliating products are the cornerstone of BeautyRx.
Start Glycolic Exfoliation Today
If you haven't tried glycolic exfoliation, start with our starter strength 8% products to introduce your skin to glycolic exfoliation and to avoid irritation. If you have normal to oily skin, use the BeautyRx Daily Exfoliating Therapy Serum. If your skin is dry or sensitive, try the BeautyRx Daily Exfoliating Therapy Cream.
After a month of using a starter strength product, it is time to add in a higher-strength product, every other night: our Advanced Exfoliating Therapy Pads. They're award winning as well as a patient favorite.
So whether you are new to glycolic exfoliation or have been using some other form, be sure to try out a glycolic product for the healthier, more beautiful skin you've always wanted.