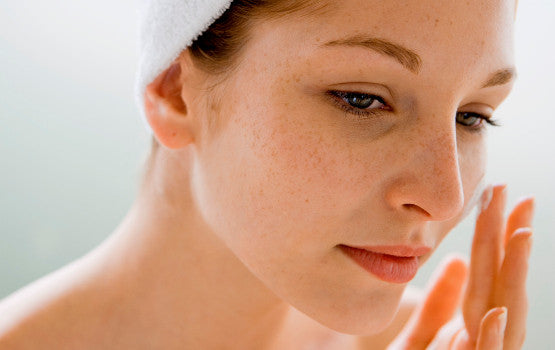 The right moisturizer nourishes your skin, and keeps it soft, supple, and healthy. For people with sensitive skin, choosing the right moisturizer is no easy business. But, how can you tell if you need a facial moisturizer for sensitive skin?
What Does it Mean to Have Sensitive Skin?

A lot of people believe that they have sensitive skin, and this often prevents them from experiencing the benefits of some really amazing skin care products. But the reality is that most of us have normal skin, and with the selection of quality products the skincare industry has to offer, there's no need to be afraid of trying them out.
To determine if your skin is sensitive, consider how often your skin becomes irritated after using common skin care products (such as you might find at a drug store): do you experience dry, burning, itchy skin once a month, or as often as three times a year? If this sounds like you, then your skin is sensitive.
However, if you only experience irritation one or two times in a five to 10 year span, your skin is normal, and you don't really need skincare products for sensitive skin, especially not a facial moisturizer for sensitive skin. (If you fall into this last category, skip ahead to "Choosing Moisturizers for Normal Skin" below.)
How to Choose a Moisturizer for Sensitive Skin

For sensitive skin, you want to choose a product that won't cause redness, breakouts, or additional dryness. But, of course, you still want it to be effective. This is where most commercially available facial moisturizers fall short.
To treat your delicate skin, try BeautyRx's Light Rehydrating Lotion, which has been formulated for combination and oily skin. This product is oil-free, so it won't clog pores. It also offers protection from free-radicals with Triantiox, a compound of three bio-complementary antioxidants only available in BeautyRx products.
For sensitive skin that is especially dry, the Ultimate Moisture Night Cream is another great option. This cream has been dermatologist-formulated to heal the driest skin. It's full of beneficial antioxidants, like Japanese Green Tea Leaf extract, that will soothe your skin and protect it from damage. Oil-free and perfect for dry and normal skin types, with regular use, this product even reduces the appearance of fine lines.
Choosing Moisturizers for Normal Skin
If it turns out that you have normal skin, you don't have to use a facial moisturizer for sensitive skin; however, in order to choose the correct moisturizer, you need to determine what type of skin you have: oily, dry, or combination. If you have an excessive amount of oil all over your face, and are prone to break outs, then your skin type is oily.
If you have no excess oil on your face, are not prone to breakouts, and your skin often feels tight or stiff, your skin is dry. Combination skin is somewhere in the middle; if your cheeks are dry, but your t-zone is oily, this is the type of skin you have.
The perfect facial moisturizer for all three skin types is the Nourishing Moisture Cream.
This cream is lightweight, oil-free and the texture is perfect for use throughout the day. With Japanese Green Tea Leaf and Soybean Seed Extracts, it also protects your skin from free radical damage and encourages collagen production-both of which will improve the signs of aging and restore your skin's youthful glow.